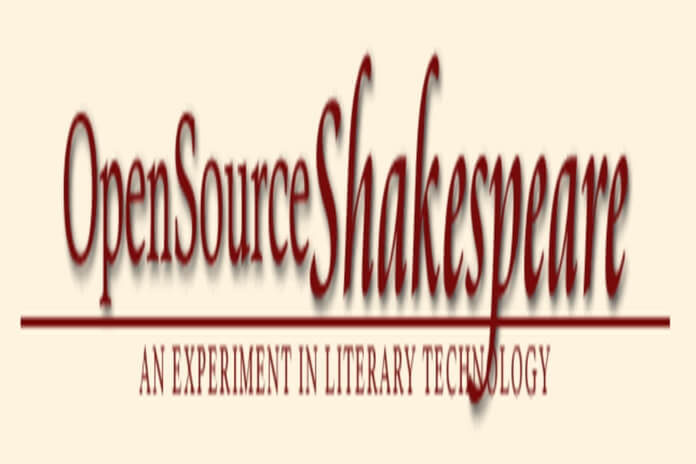 Open Source Shakespeare is a non-commercial web site. It allows free access to searchable digital versions of the works of William Shakespeare. Moby Shakespeare is the content source for this site. Moby Shakespeare contains the complete unabridged works of Shakespeare.
Eric M. Johnson (a web designer and theatre reviewer for the Washington Times newspaper) realized that no web resource with free and comprehensive collection of William Shakespeare's writings. With this knowledge Johnson started building such open source collection and formally announced 'Open Source Shakespeare Website' in February 2004.
The site has four attributes: Power, Flexibility, Friendliness, and Openness. This site does not act as replacement to the expensive, subscription-only sites at libraries or research institutions.
Success of this site can be clearly noted from the number of visitors it has seen. The site has visitors from all over the world – From June 2006 to December 2012, Open Source Shakespeare hosted over 3.7 million unique visitors. Although the western European nations contributed a significant portion of the traffic, the site has also seen a large number of visitors from non-European countries such as Brazil, China, Egypt, India, & Turkey.
The general public can use the site without paying money or even registering. Anyone is free to download & use any part of Open Source Shakespeare – so long as that part is not used commercially or in a commercial site. The site offers concordance, character search, advance search options.
The mobile version of Open Source Shakespeare allows users to access Plays, Poems, Sonnets and even the search feature is available. Open Source Shakespeare (OSS) could process non-English texts, even with non-Western character sets, as all of the technologies used to build the site can handle UTF-8 characters, which display any language. Site also offers documentation on database structure, table relationship, parsing the text & displaying it on web page. The creator believes that the site can be improved in the future:
–          Having an Moby edition alongside the early texts.
–          Readers may use Moby & scholars could compare the early texts onscreen.
–          Inclusion of audio / video clips and linking the passage to the pages.
–          Build similar collection for other literary work.

The creator has narrated the success very well – "Open Source Shakespeare demonstrates that you can build a useful literary site using off-the-shelf technologies, public-domain texts, and Web development skills".